history of St. James Lodge No 80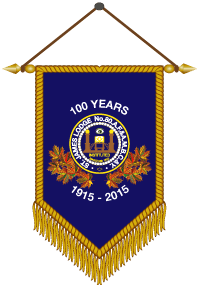 St. James Lodge No 80, is one of six lodges in District 23 under the Grand Lodge of British Columbia & Yukon. Its members meet regularly at the Freemasons Hall, 15302 Pacific Avenue in White Rock, on the second and fourth Tuesday's of every month, at 8:00 p.m., except in July and August. We practice Canadian Masonic Ritual.
St. James Lodge has had an interesting history from its very foundation. Instituted as "St. Andrew's Lodge" in March 1915 by M.W.Bro. James Stark, it was eventually consecrated in June 1915 as "St. James Lodge" by the then Grand Master, M.W.Bro. W.C. Ditmar, in the Vancouver Masonic Temple on Seymour Street.
Its members originated from backgrounds in forestry, mining, police and hydro, although in the 80's, there was a significant influx of DeMolay members, who, to this day, provide firm leadership in the performance of fine Ritual.
Eventually, the foresighted Brethren of the Lodge decided that a better future lay in the suburbs, and, in 1990 it was moved to its present address, where it pursues a productive existence.
Contributed by: Rt. Wor. Bro. Allan Large (deceased)
famous freemasons in history
Born August 11, 1950
Co-founder of Apple Computers with Steve Jobs, Wozniak continues to be a major donor to numerous needy groups and students. He has received uncountable awards from technology and community groups.
Charity Lodge No. 362, Campbell, CA:
Initiated:1980
Source: www.woz.org [accessed 2007/05/14].
September 18, 1895 – August 16, 1979
A successful lawyer, and Conservative Member of Parliament from 1940 until his death in 1979, Diefenbaker was Canadian Prime Minister from June 21, 1957 to April of 1963. He was Chancellor of the University of Saskatchewan from 1969 until his death.
Initiated: September 11, 1922
Passed: October 9, 1922
Raised: November 7, 1922
Wakaw Lodge No. 166, Wakaw, Saskatchewan Affiliated:
Kinistino Lodge No. 1, Saskatchewan Member:
Active with concordant and appendant bodies