Interested in joining st. james lodge?
If you are interested in learning more about Freemasonry or feel you have the commitment required to take the first steps in a lifetime of learning, friendship and self-improvement then we would love to hear from you. Upon receipt of this form, our Lodge Secretary will contact you to tell you more about St. James Lodge and to answer any further questions.
If you submit this form St. James Lodge may store and use the personal data you provide in order to respond to your query, check any information you have provided and improve the quality of the services it offers. Please see our Privacy Policy for more information.
September 10, 1929 – September 25, 2016
Arnold Daniel Palmer was an American professional golfer who is generally regarded as one of the greatest and most charismatic players in the sport's history. Dating back to 1955,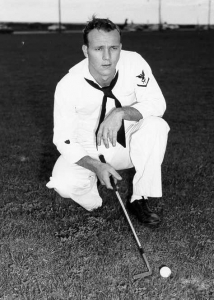 he won numerous events on both the PGA Tour and the circuit now known as PGA Tour Champions. Nicknamed The King, he was one of golf's most popular stars and seen as a trailblazer, the first superstar of the sport's television age, which began in the 1950s.
Palmer's social impact on behalf of golf was perhaps unrivalled among fellow professionals; his humble background and plain-spoken popularity helped change the perception of golf from an elite, upper-class pastime (private clubs) to a more populist sport accessible to middle and working classes (public courses). Palmer, Jack Nicklaus, and Gary Player were "The Big Three" in golf during the 1960s; they are widely credited with popularizing and commercializing the sport around the world.
In a career spanning more than six decades, he won 62 PGA Tour titles from 1955 to 1973. As of today, he is fifth on the Tour's all-time victory list, trailing only Sam Snead, Tiger Woods, Jack Nicklaus, and Ben Hogan. He won seven major titles in a six-plus-year domination from the 1958 Masters to the 1964 Masters. He also won the PGA Tour Lifetime Achievement Award in 1998, and in 1974 was one of the 13 original inductees into the World Golf Hall of Fame.
Loyalhanna Lodge #275,  Latrobe, Pennsylvania
June 24, 1884 – June, 1979
Frederick Wellington Taylor began playing hockey at the age of twelve, going on to be inducted into Hockey's Hall of Fame in 1947 after playing two Stanley Cup
championship games in 1909 and 1915, and scoring 205 goals over a twenty-one year career between 1902 and 1923.
During his professional hockey career he also was employed by the Immigration Department. He eventually retired as Commissioner of Immigration for British Columbia and the Yukon Territories. An active member of the Vancouver community, he was president of the Pacific Coast Hockey League in 1937 and helped form the British Columbia Hockey Benevolent Society, where he served as director from 1954 until his death in 1979.
Initiated: Civil Service Lodge No. 148, Ottawa
Raised: August 27, 1913
Affiliated: November, 1913
Plantagenent Lodge No. 65
Grand Lodge of British Columbia and Yukon records. Elsewhere noted as born 1885/06/23.